A brisk, early morning near the North-East coast of England. Feeling apprehensive but giddy, inspired, motivated – I am constantly picturing the motion of completing this run – my longest ever at the time.
It is 6 months since my diagnosis and my most ambitious running project is about to get underway in less than an hour. '62' miler all terrain run mainly along the coast of England. This was what proving the doubters was all about, so many voices of supposed 'do-gooders' telling me it is unwise and impractical and virtually impossible for me to conduct this run. Really?
I don't think so. It'll be hard, damned hard, tough, ill go through emotions yes, but it can be done. Little did I know what pain I'll go through…
I'm waiting at starting position, a big bunch of us jumping about, some stretching, some silent, some laughing, all looking forwards, looking to get underway…its the 24th September and the promise of a cold winter is inviting itself to smoother my body with a blast of cold air. The horn blasts and we get underway. Almost immediately one is hit my a long steep hill, a muddy experience on the bank of a wooded area. I get to it. I feel strong, and remember to pace myself. Months of training has culminated to get me to this point. I breach the first defences of the run – the hill. We now make our way through fairly flat but stumpy fields, birds chirping away as they spectate. On through some villages with the odd person clapping or waving, supporting and encouraging. This gives a warm feeling inside, a proud feeling the beginnings of what it may feel like when one is victorious. Up a path of small pebbles, and stones. The sun greets me as I swoon past a corn field and summit a rather long winding hill, it beats down on me, pounding my neck with solar heat.
I crest the the hill and the view is outstanding, my first major goal in sight – Saltburn-on-Sea, this view point is around 6 miles into the run, but such a stunning vista – the imagination is swamping my mind of Viking raids and Romans. And then suddenly – Saltburn cliffs, I come across a check point and drink, shove a few jelly babies down my throat, 'feeling' in a sense, my blood sugar levels are fine. I look up as I chew on the sweets and take in my next immediate challenge – cliffs. Yup big steep hill, fat steps. My legs signal to me, 'you can forget that mate..' – seems I'm in charge of my legs however, I just imagine – see it as a few squats across the living room for about 20 minutes… kind of like the same thing isn't it? – I convinced my legs to move with this very thought…and up the steps and cliff I go. I hit my first snag. It started to rain, the cliff side becoming dangerous. We had one rope 'guide' for a fence – about hip height. Not very much protection against a 30+ foot drop! Makes you worry a touch! and of course, the worry brought with it actuality – I slipped, luckily grabbing the rope as I did so. I dragged myself back up. Another runner coming up on me aided me and asked if I'm ok. A few scrapes, injured pride and a feeling of 'oh shit' later I'm off again. 15 miles of running along the hillside, up and down cliffs and ravines, and over fields.
Next major goal: Whitby, we are almost at the halfway point – 30+ miles already smashed. Really feeling it at this point. Hunger, bruised ankle from twisting it earlier, quads that hate me and sweat stinging my eyes. Water running low. And then the sight – Whitby. Beautiful. Harbour, ships, the sea, the old town a fantastic sight, then it dawned on me – the next check point is on the other side of Whitby. So imagine this: Whitby is built in a valley entrance if you like, on a bunch of steep hills, with a famous ruin on one side with a big bunch of wide steps to get to it (see the picture below).
Whitby: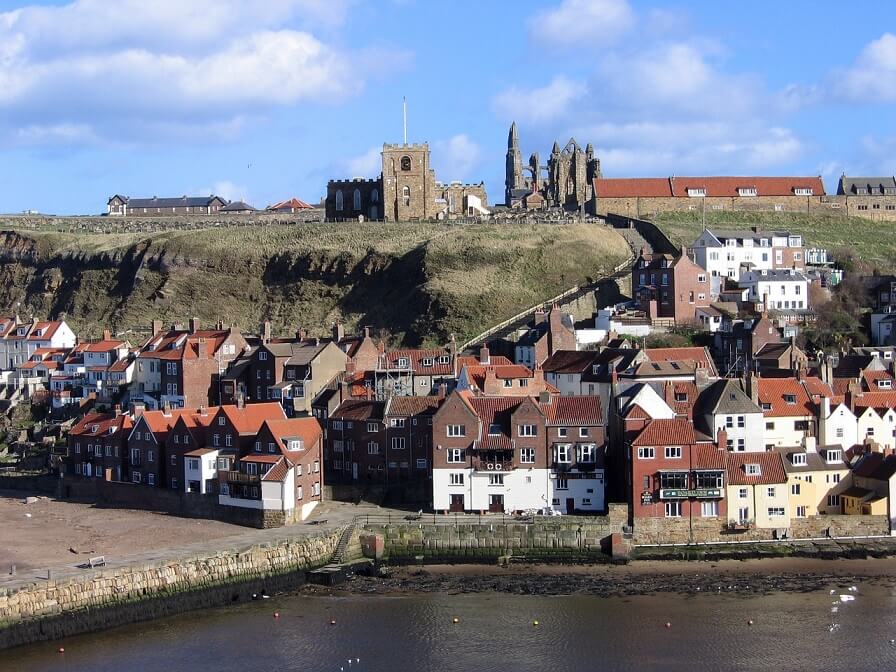 Now those huge steps I have to navigate, AFTER getting down a cliffside and running along the harbour. As we do so, we are greeted with cheers and applause and swamped with offers of drinks and sweets – yes I took some – I needed to! My first major check point is only 4 miles away from here – where I can stock up on food. I'm approaching the steps now (29 mile point), elated and encouraged feelings are starting to subside as a new experience is encroaching upon me – sickness/dizzyness/nausea – I hadn't expected that. Was it fear of the steps? was it my blood levels? I go and check my blood – no they are sitting at 6.9 mmol (later I found out it was the effects of altitude changes, I was 'up and down' on cliffs the entire run). I move a few steps before vomiting. I now consider whether it was wise to continue on – I decided there and then to try achieve one more goal, one more check point… marginal gains. I attack the stairs, I get half way – and I engage with my next opponent – cramp, they flank me and assault both my quads at the same time. I fight this, I try to 'bounce' up the remaining 60 steps with straight legs as the relentless assault of cramp and nausea continues. I reach the top of the stairs and collapse, fully conscious, unable to move. Two runners run past me non-caring. I take a drink and vomit again – this was my third time.
Five minutes pass by and I'm up on my feet again. I broke the back of the Whitby challenge and started to swing into the check point, 3 miles on. I swoon on the refreshment point and drink and guzzle more sugar. I can't stomach the scones and potatoes in my pack. My next major check point was in 17 miles. I decided, keep going, get up, dust off, re-engage and go out of the attack as Jocko Willink would say. Small goals at a time, next mini-check point 7 miles. Boom let's do it. Off I go, before my feet get used to not road pounding. Muddy fields and hardened tarmac are my course for the next 7 miles miles until we hit another little village. That seven miles was fast, lots of turns and little challenges, across fields and down another ravine.
39 miles in. I pep-talk myself. Kieron, get a grip, you can do this, look at you, you have already smashed more than half, its 'quicker' to finish than to quit! Keep going mate keep going. you are strong, so ACT it, BE strong! Pep talk over and I have a sudden spring in my step. I'm rampaging past a few runners with this sudden 3rd wind, my nausea swept aside for a few moments. I see the Sea again, its stunning and calm as the sun sets. The route leads us into darker places, wooded areas and fields. Large rocks and stinging nettles. Puddles and large clumps of grass challenging the ankles' integrity. More steep hills and country roads. The Last mini-check point rises at the top of a steep set of hills.
I ate, I vomited and I ate again. I drunk a litre of water and attacked the road again before cramp caught up with me.
Darkness sets in, I am running along wet, windy road as I approach the final check point. 53 miles in. I see my support as I 'wobble' over. It is approximately 9 in the evening now. I change my trainers and socks for more cushion as the run-in is mainly road and harbour. I vomit again and nausea strikes hard. Cramp attacks from another angle and forces me to attack it. I drink again – sugar water. Electrolytes. One more goal I say to myself one more. I shake my head with the stupidity of carrying on – is it though? what if my life depended on it? what if my kids lives depended on it? what would I do? – I'm fighting with my spirit now, my conscience . So I say to myself, I'd continue, what choice would I have. The logic hit me, remove the 'choice' of quitting. I did. I Pounded the road and struck with my final attack plan. Count the miles down like a ticking clock, fighting with my negative spirit as I'm running, killing it as I move, as I run like a freedom seeking prisoner from wild Alsatians and angry guards.
I hit the next major obstacle. A somewhat buckling bridge come staircase down this ravine, very steep, arduous and footsore. Calves feeling the brunt of my cramp's attack now as I re-negotiate the 'steps' climbing the other-side of the ravine. 4 Miles remaining.
I see a harbour, bright lights in the steep darkness on my left. I Feel the freezing cold breeze of the north sea wind blasting into the left side of my face – its a wonderful lively feeling. It dawns on me, the town in view is the finishing line. I suddenly come upon another 'staircase' wooden, down another valley. I have this burst of energy, which sweeps away the nausea, that attack of cramps. Adrenaline?
I enter a courtyard of a public house, which leads onto a road. Streets are lined with supporters and encouragers. The finish point up ahead and round the corner – past a very steep climb up the road – really? the start and the end? a cruel jest surely.
I encounter the hill, I overcome the hill and I sprint past the finish line – not knowing where the energy came from.
I collapsed after the finish point. My bloods dangerously low.
I beat it. I achieved my biggest goal yet. I proved the doubters wrong. The finished run was 64+ miles. It was probably the biggest challenge of my life all considering.
Alas I succeeded. My determination and positive mindset overcoming the naysayers, defeating the condition Type 1 Diabetes, smashing the belief it couldn't be done.
I cry. A cry of joy, of elation, true belief in oneself. I did It.
I get into the car. And then the cramps attack with all their force. I was bedded down for two days, but I was elated. Nothing was going to beat that feeling of accomplishment. Day three from the achievement my blisters still tender, I hit the roads again, because my next race is in another 3 days….
See you in Part 2!
Thank you for reading!